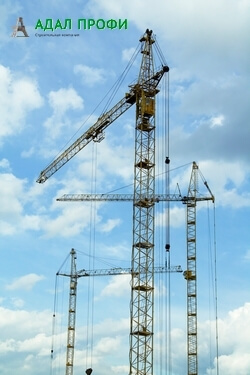 "ADAL PROFI" company started in 2007. It was a difficult period for our country due to world economic crisis.
These years of difficulties and uncertainties a group of partners with common goals decided to join the forces in order to create a new company in construction industry. A new small business LLC "ADAL PROFI" was created on the enthusiasm and common efforts of young ambitious specialists in construction and finance willing to put their energy and talents in development of economy of the country.
During the years of establishment and development LLC "ADAL PROFI" went all the way from the highly specialized contractor in construction of residential objects to multidisciplinary company, which is qualified to accomplish full construction of large-scale projects.
Having started the way from maintenance and masonry works in Astana, the company soon started to receive orders from big construction organizations with large-scale projects, which amount was increased due to dynamic development of infrastructure of the capital in the post-crisis period.
Today LLC "ADAL PROFI" implements projects in West Kazakhstan. The construction of the first aquaculture complex in Kazakhstan, which will accomplish industrial production of black caviar (8 tons/year) and sturgeon for selling (64 tons/year), was started in Uralsk in the middle of 2014.
Besides, "ADAL PROFI" participates in the construction of a plant called "Complex gas treatment plaint-3" in Chinarevskoye field, West- Kazakhstan oblast.
Over the years "ADAL PROFI" built tens of objects for different purposes, like housing estates, administrative buildings, multifunctional business-centers, industrial enterprises, and transport infrastructure facilities.
When it was decided to create "ADAL PROFI", our main goal was to build successful leading construction and erection company. Our team repeatedly made sure that the company must be continuously improving and developing as well as open to new ideas and innovations in order to be a leader. The trust of our clients is an index of our success.
We follow this principle in both internal and external policies of the company. The main asset of the company is its employees, that is why we pay special attention to recruitment, motivation and training of our personnel. The common goal created a team spirit of the company and combined our professionals, who is always ready to start working on large and complicated projects and to complete them in short time.
Our story was started from the small company consisted of few people. Now we are rapidly developing company, who has a number of realized projects in different regions of the country. Over the years it was proved that our company is a reliable contractor.
The employees of "ADAL PROFI" always aim to be the first: they study new construction technology, materials, implement modern methods of corporate governance. Thus, at the very beginning of establishment the company demonstrated a model of high level modern construction, which made possible to grow into multidisciplinary company. Our common goal and team spirit help us to solve problems as quickly as possible and create the future for us and our partners.